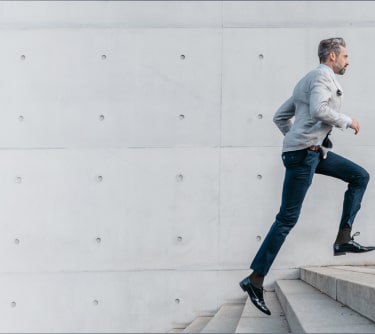 Career Advice for the Smart Job Seeker Insights on elevating your resume, job search and personal growth
The 5 Stages of a Successful Job Search Journey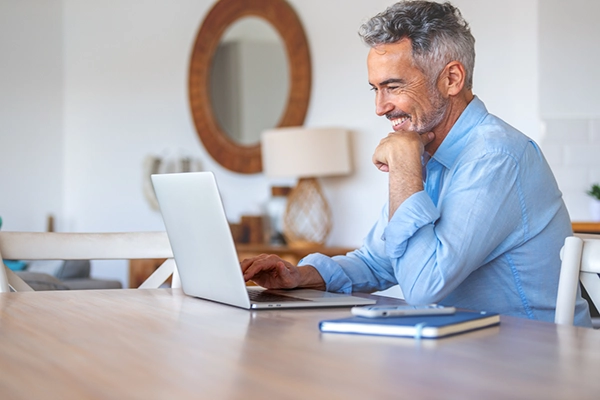 Whether you're thinking about finding a new job, or you're already in the process of looking, it can be helpful to look at the job search journey as a whole, instead of in separate pieces.
JobLeads has coached thousands of job seekers over the past two decades. In that time, we've found it very helpful to break the job search journey down into distinct stages.
Why?
Because looking for a job isn't about jumping onto career boards and typing in keywords. It's a multi-stage process, each with its own focus, action steps, and milestones. Rather like a jigsaw, you can't finish the puzzle without working through it piece by piece.
Of course, it's very hard to see that when you just want to get hired. We get it. But there's a lot of value in stepping back for a moment, understanding the full process, and planning ahead for what needs to be done at each stage. That way, you'll save yourself a lot of time and heartache, and find a better job faster.
Here at JobLeads, we use a 5-stage approach to guide job seekers through the job search process. These are:
Phase 1 – Calibration
Phase 2 – Personal Branding
Phase 3 – Job Search
Phase 4 – Job Application
Phase 5 - Interview
Let's take a look at each stage individually, including the typical steps involved. Although you're probably familiar with most of it, it doesn't hurt to remind yourself about what's involved and what you should prepare for.
Phase 1 - Calibration
Calibration is the stage before you actually start looking. This is when you assess your current career status, decide what you really want in your next job, and map out a job search game plan.
A. Audit your current career status
This means taking a good hard look at where you are in your career currently. For example: • What are your short and long-term career goals and vision? • What are your key career achievements to date? • How would you define your professional values and their priorities?
B. Decide what you really want in your next job - before you start searching
This is crucial, because no one wants a job they're not going to be happy with. So that means really looking at what fulfills you – and doesn't fulfill you – when it comes to job tasks. Here are some things to consider:
In the first step, you thought about overall career achievements – now, what about specific job accomplishments? Have these influenced the type of responsibilities you'd like next?
Linked to that, what are your key strengths and development areas?
What type of company type and culture would you thrive in?
Do you want to work full time? Part time? Be a contractor? Remote? In-person? Hybrid?
Create a list of job titles which interest you: this will help to target your next career move, and provide keywords for searching on job boards and company websites
Also, research alternative trend titles for your desired job (e.g. 'Tech Guru', 'HR Ninja'). These can also affect job keyword searches
C. Map out your Job Search Game Plan - Land your dream job in < 90 days
In our experience, the people who are most strategic and organized about their job search, land a great job faster. This means:
Creating a job search game plan, which can include a daily/weekly schedule and specific tasks you'll focus on
Implementing bitesize efficiencies to minimize efforts, for example searching on JobLeads instead of multiple sites, or using ChatGPT to slash your resume and cover letter editing time
Setting daily and weekly goals to keep yourself accountable and on track
And finally, harnessing a winning mindset by taking care of your mental, emotional, and physical wellbeing throughout the job search journey and beyond
Phase 2 – Personal Branding
A. Personal Branding is the stage where you create or refine your resume, cover letter, and LinkedIn
Have you tailored these to the type of job you identified in the Calibration phase?
Are they keyword optimized (reflecting the most common skills for that role, e.g. project management, forecasting, team leadership, etc.)?
Are your resume and cover letter Applicant Tracking System and recruiter friendly?
Are your resume and LinkedIn consistent? i.e. does what you say you do publicly (LinkedIn) reflect what you state more privately (resume)?
B. Personal branding also means reviewing your digital footprint to ensure a positive impression
Does your publicly-accessible social media and online presence give a positive or negative impression of you?
Have you commented or posted anything which might be off-putting to potential employers?
C. At this stage, it's also helpful to prepare a 30-second elevator pitch An elevator pitch is a 30-second summary you can use to introduce or 'sell' yourself verbally or in writing to headhunters, potential referrers in your network, etc. If you're not sure how to prepare one, JobLeads has a great video lesson on the topic
Phase 3 – Job Search
Before you start applying for jobs, it's important to decide where you're going to look: not every site and source is relevant or useful for what you're looking for.
Take time to identify the most relevant sites for your job type. Ideally, focus on 2-3 maximum to check regularly in order to maximize your search time and efforts
Check out JobLeads. As a mass aggregator, our platform frequently trawls hundreds of job sources globally, presenting fantastic opportunities all in one place. Not only does this save you time, but you'll also connect with opportunities you may not have discovered otherwise
Identify quality headhunters in your area of expertise and location. As gatekeepers to the >80% of unlisted jobs out there, headhunters can connect you with amazing opportunities. You can find great headhunters on the JobLeads platform
Identify useful contacts in your network (e.g. LinkedIn) who can refer you to hiring managers
Phase 4 – Job Application
After thoroughly preparing in Phases 1-3, you're now ready to start applying for great jobs!
You'll need a clear strategy and to be very organized at this stage, as you'll be pursuing many options simultaneously. But it will all be worth it in the end.
At this stage, don't forget to customize your resume and cover letter for specific opportunities. Watch our video tip on how to do this, or take our ChatGPT masterclass to see how AI can do it all for you
After identifying potential contacts in Phase 3, it's time to approach them. We recommend writing an email template that you can simply copy, paste, and tweak for each contact. JobLeads has a great video lesson in how to leverage your network
We highly recommend creating a spreadsheet to track and follow up on each application, so you can keep on top of every single opportunity
Phase 5 - Interview
By Phase 5, your targeted job search efforts are really paying off. You're receiving interview invitations for the fantastic jobs you've applied for.
Now's the time to undertake thorough research on the companies you're interviewing with. You'll prepare for likely interview questions, practice your responses, learn how to leave a lasting impression, follow up effectively, gracefully acknowledge rejections and strategically evaluate offers.
We recommend taking our masterclass on mastering the interview process. We also have a great video tip about using ChatGPT to prepare customized interview question responses to help you practice in advance. And don't forget the JobLeads Ultimate Guide to Interview Questions to help you master any interview.
As we've seen, it's incredibly helpful to familiarize yourself with all stages of job searching, before you get started. That way, you'll approach your job hunt with a clear strategy, while slashing your time investment and only focusing on efforts that will land you that amazing job faster!